What's Included
Platform and Built-in Library
Reputation Management Dashboard
Peer-to-Peer Functionality
Standard Endorsement Badge Library
Configuration and Customization
Appointment Configuration
Location Configuration
Endorsement Badge Customization
Surveys and Distribution Channels
Staff Level Surveys
Department Level Surveys
Survey Distribution via Email or SMS
Reporting and Analytics
Patient Journey Mapping
Standard Reporting Suite
Enhanced Reporting Suite
Integrations and APIs
Athenahealth Integration
PointClickCare Integration
Medent Integration
Support and Maintenance
Free Setup by Well iQ for All Features
Email Support
Regular Software Updates
Fixed Annual Cost
Our subscription fee is based on a per- Provider price and the size of your practice.
It covers all integration costs, surveys sent and includes unlimited access to the Administrative Dashboard and reporting for the duration of your contract, so there are never questions or surprises down the road. Well iQ pricing includes flexible ranges that support the growth of your practice including all of its patients and staff. Even better, regular updates and enhancements are included in the price, so you're always working with the latest and greatest version of Well iQ. Contact us now for a detailed price quote for your practice.
Contact Our Sales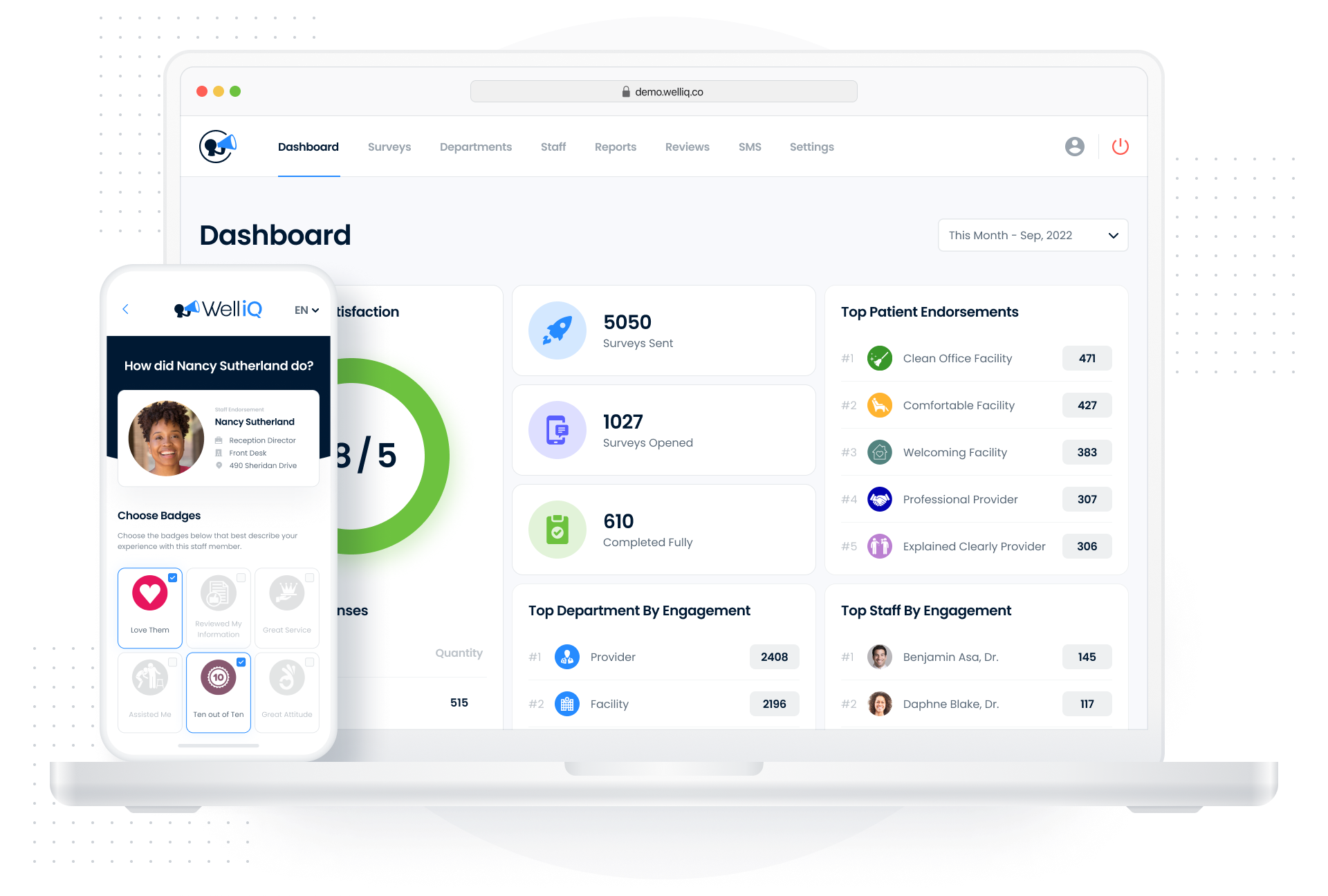 Frequently Asked Questions
Yes, we offer annual and monthly payment plans.

Typically our contracts are annual, however multi-year contracts can be established as well.

We accept credit cards, checks, and ACH as payment types.

Contracts can be canceled at any time with 60 days notice. Annual plans will be refunded on a prorated basis.

Our prices are based on the number of Providers. We also have the ability to base prices on # of beds or surveys sent.

The licensing fee covers all staff for the duration of the contract-provided that the ratio of Staff to Providers remains reasonable.

There are no costs for set-up, which we handle for you. There are also no additional costs for integration with our existing partners.

Beyond our standard features, our Reputation Management and Peer-to-Peer functionalities come at a small additional cost.